THE SLAMPAMPERS
Jump & Jive, Doowop, Close Harmony Singing
STREET-PERFORMANCES - THEATRE-PERFORMANCES - FESTIVAL-STAGE-PERFORMANCES - CORPORATE-ACTS (on demand)
Over the last few decades "the Slampampers" have proven to be one of Europe's finest music-comedy bands.
Dazzling performances all over the globe,a mini-bigband "putting on the jive" allways pushing themselves to the limits of musical comedy.
Putting on a feel-good show that will make audiences laugh,cry and enjoy Are you ready for a "slamtastic" experience ? …The Slampampers, a show you don't wanna miss ..................do you ?
A very likeable-show brought by three professional musician-entertainers who always play with all their hearts , watching these guys trying so hard and doing their very best will finally make you love them !!
The Slampampers is a trio consisting drums, double bass, saxophone and lots of close-harmony singing.
Being experienced comedian-performers (on streets, stages and theatre), they will perform a hilarious (jazz)music-comedy show based on, and inspired by music from the 40ties/50ties....jumpin'jive and lots of unique modern stuff.
Van Duitsland tot België, Canada, Frankrijk, Italië, Luxemburg, Nederland, Oostenrijk, Portugal, Spanje, Zwitserland tot aan Zuid Korea toe heeft dit reizende gezelschap met hun spectaculaire performances, een diepe indruk achtergelaten. The Slampampers combineren Jump & Jive, Doowop, Close Harmony Singing en een verdwaalde Rap met tomeloze energie, onverwachte comedy en liters zweet!
De drie Slampampers zijn zowel uitstekende muzikanten als geweldige komedianten. Ze hebben zich ontwikkeld tot ervaren entertainers die spelen in zowel theaters als op festivals en andere events, op straat en desnoods bij u in de huiskamer; Akoestisch, versterkt, mobiel of op een podium: Een 'feelgood-show' die het publiek aan het lachen maakt en waar je goeie zin van krijgt.
Ben je klaar voor een Slamtastische ervaring ?
The Slampampers bestaat uit zang, saxofoon, bas en drums. The Slampampers zijn drie zéér ervaren musici-entertainers en maken een komische show gebaseerd op hun muziek waarbij comedy en muziek samengaan.
STRAATFESTIVALS,
THEATERSHOWS,
FESTIVAL-PODIUM-OPTREDENS,
BEDRIJFSEVENEMENTEN
SHOWS
STREETSHOWS
We love playing the streets, thats where we started our carreer and we love to interact with the audiences and situations one encounters playing in the streets. 
Read more ...
A Slampamper-streetshow would consist of little sets of 20-30 minutes.
We can play up to 6 different sets
Every set is a little entertaining show with our songs and little stories and funny actions.
We try to let the people enjoy our music and laugh wit our actions.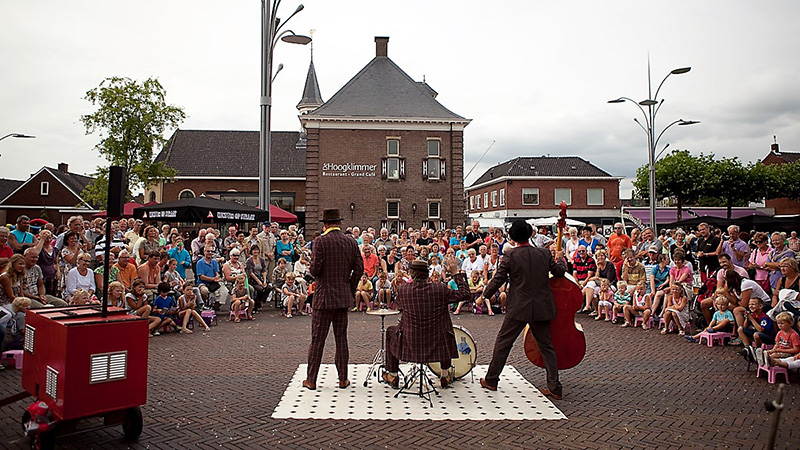 https://www.youtube.com/watch?v=pon81zFP2jo&index=26&list=UUIq2DrMIixhGAe9YC4ddBMw
FESTIVAL-STAGE-SHOW
Meanwhile we have a lot of experience playing festival stages. 
Read more ...
We have the technique and power to reach bigger crowds, up to 1000 people.
A stage-show would consist of different sets between 20 and 45 min.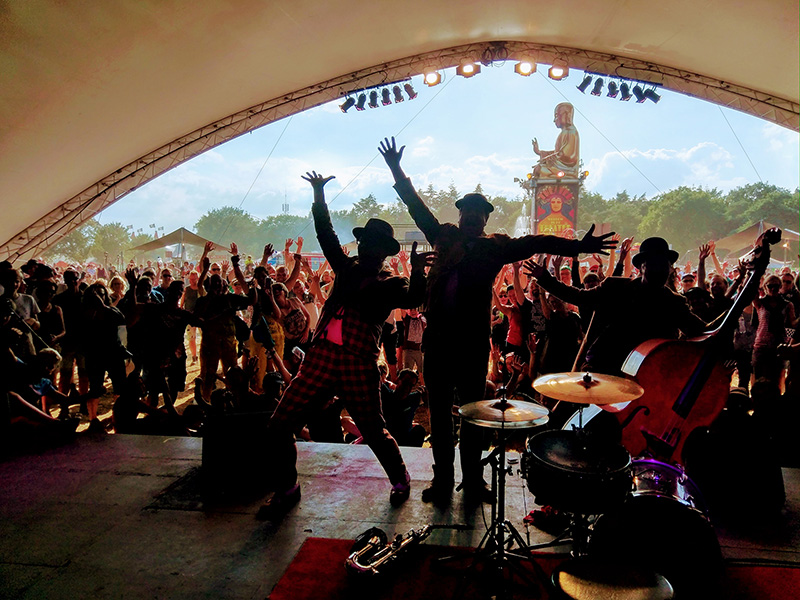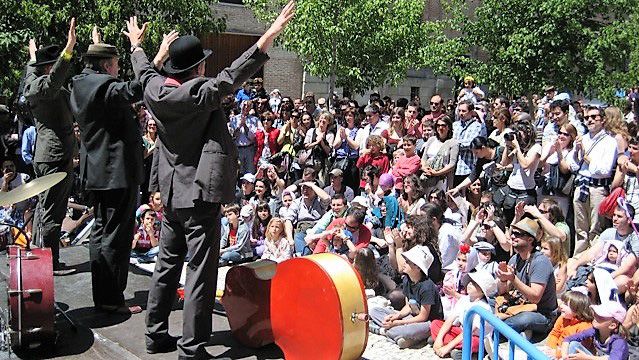 COMPANY AND PRIVATE EVENTS
Through the years we have done hundreds of Company events, big and small.
Read more ...
How nice is it to welcome guests with a little life-music-experience .
How refreshing short funny/musical intermissions between speakers at a event
We can play soft, we can play loud, we try to read the audience/client so that we fit in and contribute to the event.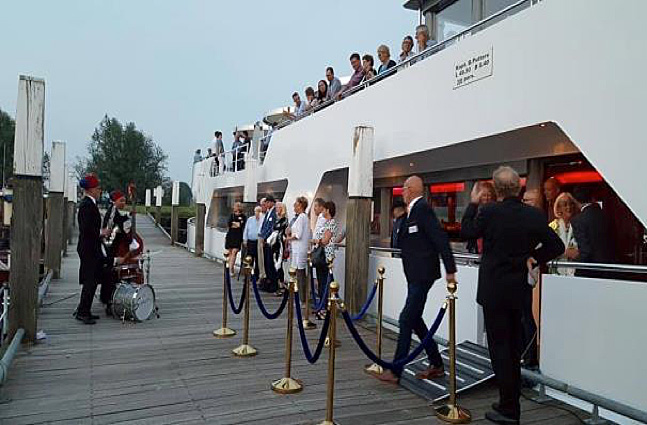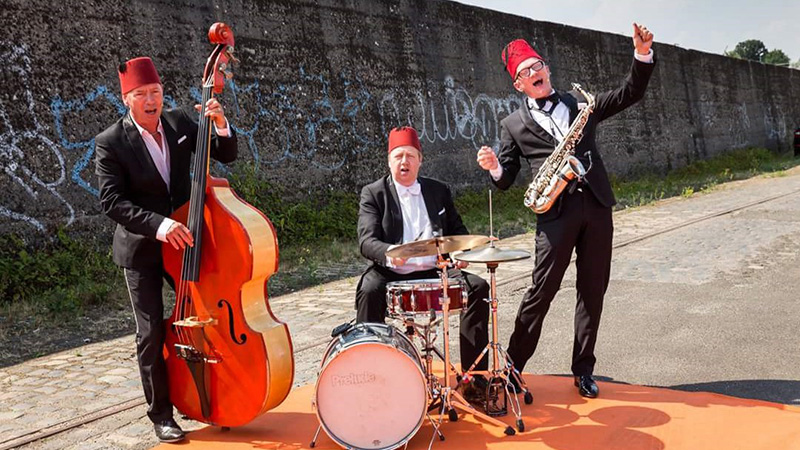 VARIETY / BURLESQUE
We have a Burlesque-show, Buzz , Love , Jive.&.... Rita !
A Jazzy Burlesque Affair
Read more ...
A Vintage-Swing-Jazz Trio always on the look out for a new musical-high, some pretty girls and some more money.
In this NEW 40 minute jazz-comedy-burlesque show, 3 jazz musicians become totally overwhelmed at the sudden appearance of the astonishingly beautiful Italian superdiva Rita Lynch.
A hilarious drama starts to unfold! Fabulous music, burlesque routines & erotic escapades!
All this with a fine twist, a happy ending and a sing-a-long!
Featuring the infamous swing-comedy-trio THE SLAMPAMPERS & the wonderful, beautiful, mysterious & super sexy Italian diva RITA LYNCH.
A sweet & mesmerizing musical show with that extra sensual touch of burlesque.
A 40 minute compact comedy-burlesque musical show which can be performed on any stage, any theatre, any hall (big or small ) for any audience, any time, any where, any how.
Sound, lighting and if necessary, even a stage can be proivided.
Technical specs & prices on request and after consultation.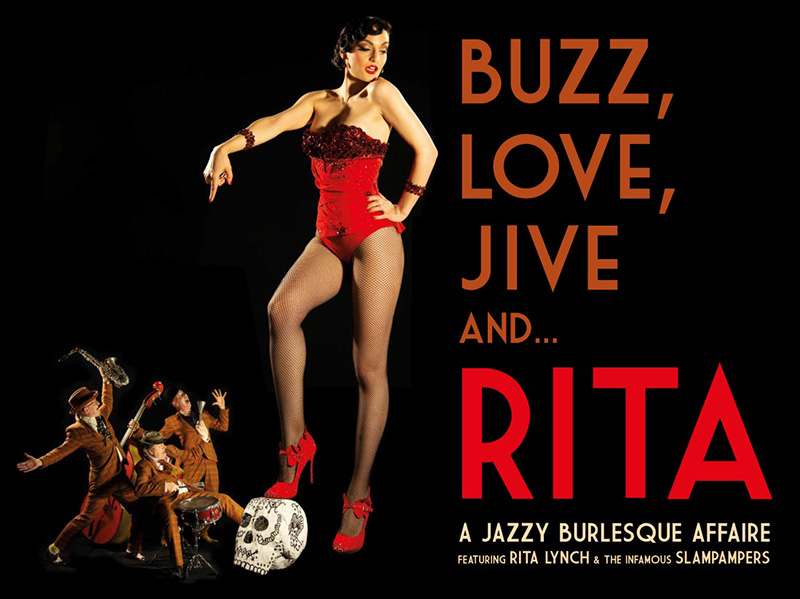 EFTELING PROJECT
Exclusief voor de Efteling produceren The Slampampers al jaren de Efteling-muzikanten. De Parkband van de Efteling, met live-muziek en show.
Read more ...
"Vier muzikale virtuozen bespelen hun instrumenten en het publiek.
Ze zijn theatraal, komisch en elk lied is een happening op zich."
Er wordt meerstemmig gezongen en voor speciale gelegenheden hebben ze altijd wel een liedje paraat. Het repertoire bestaat naast Efteling repertoire uit bekende Nederlandse en Engelse liedjes. De Eftelingmuzikanten zijn om naar te luisteren en te kijken."
The Slampampers verzorgen hiervoor de totale productie; zowel het concept, de artistieke invulling als de planning en dagelijkse productie, op basis van een pool van muzikanten.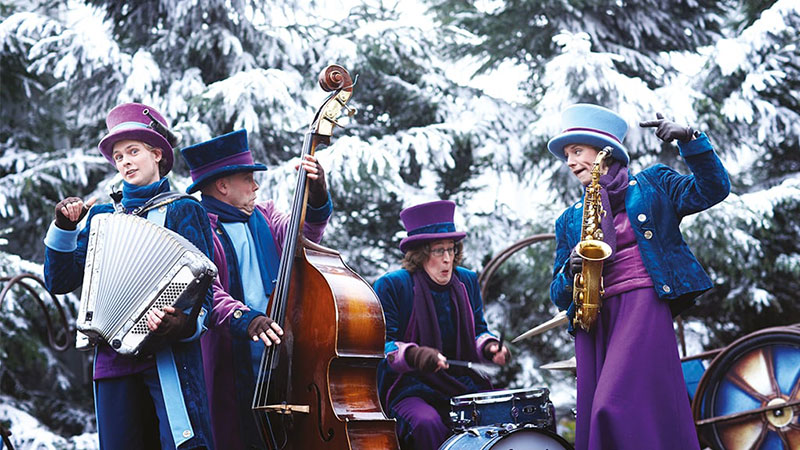 https://www.youtube.com/watch?v=HUY96E89tGs&index=3&list=PLax_Jl-_6xzBElCt_IbbsD_MNJBicm2c
TOUR
11-02-18 Elst (B)
28-03-18 Breda (private)
02-04-18 Helmond (private)
06-04-18 Roermond Outlet
15-04-18 Zeist Lentefestival
20-04-18 Eindhoven (private)
22-04-18 Utrecht Spoorwegmuseum
10-05-18 Rozendaal Rosada
12-05-18 Breda Jazzfestival
13-05-18 Breda Jazzfestival
19-05-18 Den Bosch Duketown
20-05-18 Den Bosch Duketown
25-05-18 Wijk bij Duurstede (private)
09-06-18 Hanau (D) Lamboy Fest
10-06-18 Ruurlo Reurpop
16-06-18 Schneverdingen (D)
17-06-18 OraniÎnburg (D)
18-06-18 Berlin (D)
21-06-18 Brussel (private)
22-06-18 Belgium (private)
23-06-18 Wageningen 100jaar Universiteit
24-06-18 Lier
30-06-18 Bolsward Bolstj¸rrich
11-07-18 Aalst Vlaanderen Feest! in Aalst
13-07-18 Lichtenvoorde Zwarte Cross
14-07-18 Lichtenvoorde Zwarte Cross
21-07-18 t/m 12-08-18 33x Santander (ES) Circo Quimera 2018
25-08-18 opt. Puurs
30-08-18 Meppel Meppeldag
01-09-18 Aalten (private)
02-09-18 Wolfenbüttel (D)
15-09-18 Uithuizen
15-09-18 Slochteren (private)
04-09-18 opt Stevensweert (private)
22-09-18 Zwolle (private)
23-09-18 Roermond Designoutlet 14-20
27-09-18 Amsterdam
29-09-18 Almere
11-10-18 Arnhem (private)
16-10-18 Arnhem Blue Rapsody
26-10-18 Roermond Designoutlet
27-10-18 Roermond DesignOutlet
28-10-18 Roermond Designoutlet
03-11-18 Roosendaal Rosada
04-11-18 Roosendaal Rosada
03-12-18 Breda (Private)
21-12-18 Hoboken (B)
22-12-18 Poperingen (B)
23-12-18 Mechelen (B)
29-12-18 Beveren (B)
05-01-19 Tmbeek (B)
02-02-19 Blijdorp (Private)
16-02-19 Sittard (Private)
28-03-19 Heerenveen Agrarisch ondernemer vh jaar

15-04-19 AVANS Breda
27-04-19 Zierikzee 18-22
17-05-19 Blue Collar Hotel Eindhoven "BURLESQUE" evening
30-05-19 Breda Jazzfestivan, "BURESQUE" evening
31-05-19 Breda Jazz afetrnoon and evening
01-06-19 Breda Jazz , daytime
02-06-19 Breda Jazz , daytrime
23-06-19 Toeten en blazen Lier
19-07-19 Crailsheim (D)
20-07-19 Crailsheim
03-08-19 Koudekerk Trekkerdetrek
10-08-19 Esch sur Alzette (L)
15-08-19 Blijdorp
22-08-19 Blijdorp
24-08-19 Reinfelden (D)
25-08-19 Reinfelden (D)
26-08-19 Paderborn (D)
27-08-19 Paderborn (D)
29-08-19 Blijdorp
10-09-19 Amsterdan, company-gig
14-09-19 Amersfoort, private
21-09-19 Opoeteren (wedding)
28-09-19 Amsterdam, company-gig
04-10-19 Eindhoven, private
08-10-19 Den Bosch
02-11-19 Rosada Roosendaal
15-12-19 Ruurlo Winter
16-12-19 Heerde
21-12-19 Vilvoorde
22-12-19 Mechelen
08-02-20 Marotten Sittard
06-03-20 Doetinchem Privé
16-03-29 CANCELLED COVID19 Leeuwarden
26-03-20 CANCELLED COVID19 Heerenveen, AOvh jaar
05-04-20 CANCELLED COVID19 Waalwijk, Van Mossel
01-05-20 CANCELLED COVID19 Hamn (D)
02-05-20 CANCELLED COVID19 Eindhoven
03-05-20 CANCELLED COVID19 Eindhoven
05-05-20 CANCELLED COVID19 Eindhoven
21 t/m 24-05-20 CANCELLED COVID19 Breda Jazz festival
30-05-20 CANCELLED COVID19 Leidsche-Rijn
31-05-20 CANCELLED COVID19 Klomppop Ovezande
05-06-20 CANCELLED COVID19 Baarn
07-06-20 CANCELLED COVID19 Dokkum
12-06-20 CANCELLED COVID19 Prague Dinnershow
16-06-20 CANCELLED COVID19 Amsterdam , Company-show
17-06-20 CANCELLED COVID19 Amsterdam
19-06-20 CANCELLED COVID19 Blue Rapsody
27-06-20 CANCELLED COVID19 Mol ,op straat
27-06-20 option Dilbeek
28-06-20 option Dilbeek
04-07-20 option Theatreshow "Couchsurfing" Kattendans Bergeijk
05-07-20 CANCELLED COVID19 Tilburg
19-07-20 CANCELLED COVID19 Heemskerk Zomerpodium
23-07-20 CANCELLED COVID19 Hanau, Kleine Parkbühne Staatspark Wilhelmsbad, Parkpromenade
30-07-20 CANCELLED COVID19 Tours (F)
31-07-20 CANCELLED COVID19 Mont-Dore (F) t/m 02-08-20
01-08-20 CANCELLED COVID19 Mol, Braderie
02-08-20 CANCELLED COVID19 Mol, Braderie
03-08-20 CANCELLED COVID19 Hamm (D)
12 t/m 16-08-20 CANCELLED COVID19 Sail Amsterdam
07-10-20 Eindhoven Street
08-10-20 Eindhoven Street
03-09-20 CANCELLED COVID19 Odiliapeel
05-09-20 CANCELLED COVID19 Odiliapeel
17-09-20 Veenendaal
03-10-20 CANCELLED COVID19 Meijel
14-10-20 Eindhoven Street
15-10-20 Eindhoven Street
20-10-20 CANCELLED COVID19 Noordwijk
23-10-20 CANCELLED COVID19 Blauwestad
27-10-20 CANCELLED COVID19 Variëty-show Den Haag
03 t/m 05-11-20 CANCELLED COVID19 Amsterdam
10-11-20 CANCELLED COVID19 Noordwijk
16-12-20 CANCELLED COVID19 Eindhoven ochtend , Corporate
16-12-20 CANCELLED COVID19 Eindhoven, evening , Corporate
17-12-20 CANCELLED COVID19 Eindhoven, evening Corporate
19-12-20 CANCELLED COVID19 Zoetermeer
20-12-20 CANCELLED COVID19 Zoetermeer
26-12-20 CANCELLED COVID19 Zoetermeer
28-12-20 Eindhoven Muziekgebouw, Maandag van Van Meurs (stream)
31-12-20 CANCELLED COVID19 Vaals
30-01-21 CANCELLED COVID19 Blijdorp
06-02-21 CANCELLED COVID19 Blijdorp
08-03-21 CANCELLED COVID19 Leeuwarden
08-03-21 Utrecht Congres online
09-03-21 Utrecht Congres online
20-03-21 Ravels België , Street
21-04-20 option Soest
26-06-21 Beveren (B)
26-07-21 Roermond
28-07-21 Roermond
30-07-21 Roosendaal
01-08-21 Roosendaal
03-07-21 De Boemel Tilburg Theatre show
07-07-21 Parktheater Eindhoven, theatreshow
24-07-21 Camping de Wereld
11-09-21 Valkenswaard Street
17-09-21 Grace Kelly Rotterdam
18-09-21 Rottweil (D) Jazzfestival
22-09-21 CANCELLED Covid Breda
25-09-21 Amsterdam Street
02-10-21 CANCELLED Covid Maassluis Furiade
11-10-21 Den Bosch Congres
17-09-21 TU Eindhoven festival
04-11-21 Roosendaal
23, 24,25-11-21 CANCELLED COvid Jumbo Breda
30-11-21 CANCELLED covid Barneveld
11 and12-11-21 CANCELLED covid Utrecht Congres
18-12-21 Roeselare (B) Street
19-12-21 Mechelen (B) Street
22 t/m 31-12-21 CANCELLED covid, Kerstwintercircus Parktheater Eindhoven
06-01-22 Roeselare Street
23-04-22 Grace Kelly Königsberg
24/27-03-22 Designeroutlet Roermond
14-04-22 Jazzfestival Breda
23-04-22 Königswinter (D)
24-04-22 Hoboken
28/29/30-04-22 Haarlemmermeer
01-05-22 Hamm (D) Festival
20-05-22 Gorinchem
18-06-22 Utrecht Le Fabrique
15-07-22 Blijdorp
16-07-22 Jazz Fest Best
22-07-22 Blijdorp
23-07-22 Hanau
29-07-22 Blijdorp
30-07-22 Blijdorp
04-07-22 t/m 07-08-22 Roermond
19-08-22 Eindhoven
21/22-08-22 Reinfelden (D) festival
26/27/28-08-22 UITmarkt Amsterdam
29-08-22 Eindhoven
09-09-22 Veere
10-09-22 Valkenswaard
11-09-22 Valkenswaard
21-09-22 Venlo
23/24/25-09-2022 Radio Minerva Antwerpen
26-09-22 Roermond
01-10-22 Furiade Maassluis
02-10-22 Bergeijk, Kattendans
03-10-22 Roermond
06-10-22 Noordwijkerhout
09-10-22 Vught
10-12-22 Evoluon
19 t/m 31-12-22 Kerstwintercircus Parktheater Eindhoven
04-02-23 Diergaarde Blijdorp
24-02-23 Cantinetheater "MUSIC from the MOON" theatreshow
05-03-23 Cantinetheater Budel, theatreshow
15-03-23 Zoersel
19-03-23 Rosada Roosendaal
20-03-23 Rosada Roosendaal
08-06-23 Helmond (company-event)
11-06-23 Helmond (company-event)
08-07-23 Diergaarde Blijdorp
13-07-23 Diergaarde Blijdorp
14-07-23 Diergaarde Blijdorp
20-07-23 Diergaarde Blijdorp
21-07-23 Diergaarde Blijdorp
27-07-23 Diergaarde Blijdorp
28-07-23 Diergaarde Blijdorp
29-07-23 Makkum street for Showbird
02-09-23 Mechelen (B) strreet
03-09-23 Hasselt (B) street
09-09-23 Valkenswaard markt, Bloemencorso
17-09-23 Diergaarde Blijdorp
Hereunder a very incomplete list of shows and places they 've been performing the last couple of years -Boulevard of broken dreams (NL) -Ansan Streetheatrefestival (South Korea) -Oerol festival (NL) -Gaugler festival in Koblenz (DE) -La Strada Bremen (DE) -Gentse Feesten (B) -Lowlands Festival (NL) -Tulip Festival (Canada) -Jazzfestival Hildesheim (DE) -Theatre festival Valladolid (E) -Atisti in Piazza Pennabili (IT) -Jazzfestival Bad Elster (DE) -Theatrefestival Tavira (PT) -Cirque de la Lune Arcen (NL) -Monde du Cirque Geneva (CH) -Fira I Festes de Gandia (SP) -Theater am Berliner ring (DE) -Humor du Notes Haguenau (FR) -International theatrefestival Sibiu (RO) -Theatrefestival Porsgrunn (NO) -Saiprarua festival Valença (PT) -Buskersfestival Bern (CH) -Theatre Carambolage Surprize Bolzano (IT) -Ansan Streetfestival (KR) -Impuls Dornbirn (AU) -Arts mercado Barcelona (SP) -Stadttheater Aachen (DE) -Theaterfestival Paderborn (DE) -Sint Niklaas theatre (BE) -Bluesfestival Beauvais (FR) -Jazzfestival Breda (NL) -Fries streetfestival Leeuwarden (NL) -Buskersfestival Stigliano Lucania (IT) -Theatretour Portugal (PT) -Swing on snow festival Seis (IT) -Bevrijdingsfestival Amsterdam (NL) -Kultur aus dem Hut Rostock (DE) -Ummi Gummi Lienz (AU) -Sonsbeek theatre avenue (NL) -Jazznight Zug (CH) -Humor&Music Agueda (PT) -Jazzfestival Bolzano (IT) and many many others in The Netherlands, Germany, Austria, Norway, Romania, Korea, Switserland, Belgium, France, Italy, Spain and Portugal. The Slampampers did also hundreds of 'corporate-performances' for companies at presentations and gala's.Past shows
INFO
Jump & Jive, Doowop, Close Harmony Singing
STREETFESTIVALS, THEATRESHOWS, FESTIVAL-STAGE-SHOWS, COMPANY and PRIVATE EVENTS
The Slampampers play 3 sets of 25 minutes within a period of 4 hours But in consultation other combinations are also possible.
The Slampampers play acoustically for very small crowds, till 50 persons and will be very mobile then and take very little room.
They come walking in with their instruments and can play right-away, and afterwards immediately walk off, without leaving a trace.
The Slampampers also have their own small, portable sound-equipment for audiences till 200 persons. (except when we travel by plane)
In case of bigger venues than 200 persons ,we need a stage and PA-system.
The Slampampers always need at least one power point of 230V, within 15 meters of the stage.
Slampampers pressphoto 01 (jpg)
Slampampers pressphoto 02 (jpg)
The Slampampers kunnen akoestisch spelen voor klein publiek (tot 50 personen) en zijn dan zeer makkelijk verplaatsbaar. The Slampampers kunnen met hun instrumenten binnen komen lopen en meteen de act beginnen en na afloop ook meteen weer verdwijnen zonder een spoor achter te laten.
The Slampampers hebben ook een draadloze intallatie voor publiek tot 200 personen, ook met deze installatie zijn we zéér makkelijk verplaatsbaar en nemen we weinig ruimte in.
Voor grotere gelegenheden is een podium en een grotere installatie nodig.
The Slampampers spelen 3 sets van 25 minuten binnen een tijdsbestek van 4 uur maar in overleg zijn ook andere combinaties mogelijk.
The Slampampers hebben altijd in elk geval één stroompunt van 230 V nodig, binnen 15 meter van de speelplaats.
Slampampers pressphoto 01 (jpg)
Slampampers pressphoto 02 (jpg)
MEDIA
Social - Photos - Videos - Music
All rights reserved © The Slampampers 2018